DATE:
VENUE:
PROGPOWER EUROPE 2006
MERCENARY; TEXTURES; SCAR SYMMETRY; EPHEL DUATH; CHAOSWAVE; ANOTHER MESSIAH
Saturday 30th Sept - Sunday 1st Oct 2006
Sjiwa in Baarlo, Netherlands

SATURDAY
SUNDAY
RIVERSIDE; COMMUNIC; DARK SUNS; VOYAGER; NOVA ART; SPHERE OF SOULS
ANOTHER MESSIAH
SATURDAY 30th SEPTEMBER
The festival commences around 1:45pm on Saturday afternoon as relatively new Dutch band Another Messiah appear on stage. Playing mainly mid-paced tempo metal and, to be honest, sounding rather samey and bland after a while, I couldn't help but think back to last year's Saturday openers Disillusion with their all-out bombastic performance - in fact, probably the best opening band I've ever seen at any festival. Only a moderately sized gathering stay to watch Another Messiah, whereas Disillusion managed to sustain a much larger crowd throughout their entire set. Still, this is a new year and although, by comparison, Another Messiah offer a more complacent, subdued beginning to Progpower Europe they do deliver a tight, solid set. Their largely unoriginal songs are kept vaguely interesting by the novelty of singer Robbie J. de Klerk's classical oboe interludes played over a heavy backing, but are ultimately uninspiring.
FESTIVAL OVERVIEW
2006 marks the 8th occasion of the annual Progpower Europe festival, and the 6th time it has been held at the Sjiwa in the beautiful village of Baarlo in southern Holland. This is my third consecutive year in Baarlo and it is an absolute pleasure to return as this is, without a doubt, the friendliest, most sincere festival I have ever attended. Those responsible for organising Progpower Europe prioritise the fans and their love of the music - I understand very little profit is made from these events. The emphasis is on high quality prog metal from around the world and 2006 is no exception with bands from no less than 9 different countries. Each year, some bands are booked who've never or rarely played outside of their home countries and, of course, more established acts from the prog metal scene. There is obviously a risk involved with booking largely unknown bands, but full credit to the organisers for doing so as it provides people with the ideal opportunity to discover great new music and bands with the chance to play to new audiences.

As with last year, the organisers decided on a heavy Saturday and a not so heavy Sunday. I guess this is a ploy to increase the sale of single day tickets in catering for different tastes but also works as a good contrast between the 2 days. Bands play in the main hall of the venue which only has a capacity of around 800 people, but a good sized stage and a very reasonably priced bar. No expense has been spared with the sound and lighting, which is of a genuine high quality. The Sjiwa also has a basement with a large bar and is perfect for chilling out with a drink in between bands - particularly on the very comfortable sofas! There is also a separate room with a merchandise company selling an incredibly large selection of CDs, DVDs, t-shirts etc. In fact, the festival actually begins on Friday night in the basement at the 'pre-party' and, for the second year running, 2 bands were booked to play here - Zero Gravity from Belgium and Dreamscape from Germany. This more intimate room has a capacity of around 250 people and serves as a great warm-up for when the festival kicks off for real the following day.

Another positive aspect of the festival are the 'diner breaks' on each day. After 3 bands have played, there's an hour's gap for people to go and get some food without missing any of the music. What an absolutely great idea! Directly outside the venue is a burger van selling a good selection of rather tasty snacks and only a 2 minute walk up the road is Super de Boer - the local supermarket (although this isn't open on Sundays). There are also a few restaurants within the village including The Peking Garden which serves some of the most delicious Chinese food I've ever had the pleasure of eating.

Also worthy of note are the 'after parties' held in the basement at the end of each day which last into the early hours of the morning. A DJ plays a wide array of metal tunes, the bar stays open, and it's a good opportunity to have a chat with any of the bands that are still around.

Overall, Progpower Europe is an extremely well organised event with a very friendly, almost family-like, atmosphere. But what of the bands? Read on...
Click on thumbnails for larger images: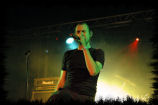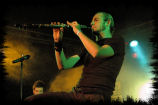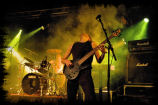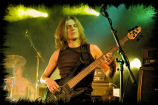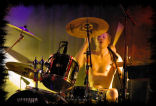 CHAOSWAVE
Next up are Italian band Chaoswave. They were formed in 2003 by Danish guitarist Henrik 'Guf' Rangstrup, who also plays guitar for Sinphonia. Comparisons, at least on a surface level, to Lacuna Coil are inevitable - Italian; dual female/male vocals etc. However, musically, they are significantly different - more progressive and discernibly heavier. I'd only previously heard a couple of tracks by Chaoswave, but remember being impressed by their energetic and vigorous style of metal. This is something that trasfers well to the live context as today they deliver a performance as dynamic as their music. Guf's infectious speed riffing, Marco Angioni's powerful bass playing, and Raphael Saini's frantic drumming combine to form a punchy metal backing for Fabio Carta and Giorgia Fadda'a clever vocal interplay . Not groundbreakingly original, but certainly impressive.
Click on thumbnails for larger images: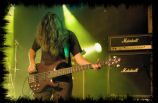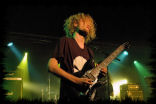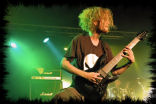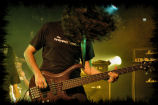 EPHEL DUATH
Third on stage are one of the band's I was most eagerly anticipating - Italian jazz metallers Ephel Duath. Having been a fan since their second album, 'The Painter's Palette', I'd never managed to catch them live, so was fairly excited about seeing the band for the first time. In its contemporary conception and usage, 'progressive' is a term that's too often used casually to describe quasi-prog music. However, never has a band been more deserving of the term 'progressive' than Ephel Duath as they have not only progressed as a band with their own sound, but also transcend the parameters of various musical styles. Their first album, 'Phormula' (2000), was an original take on the, by then, stagnant black metal genre. 2003's 'The Painter's Palette' marked a radical change in their sound with a jazz/metal fusion. Recent release 'Pain Necessary To Know' (2005) continued the jazz/metal stylistics of its predecessor but with less song structure and increased cacophony. Ephel Duath are not simply an extreme metal band as the media often labels them - their music is all about contrasting extremities with juxtapositions of discordant metal aggression and mellow jazzy intricacies throughout. The music is as much inspired by someone like John McLaughlin as it is any metal band. So were they any good live?...

Ephel Duath open their set with 'New Disorder', first track from 'Pain Necessary To Know' and juding by the vast applause and cheers at the end of the song, they're a popular band with the Progpower crowd. Most of the set is pulled from 'Pain...' though 'The Passage (pearl grey)' from 'The Painter's Palette' is very warmly received despite the absence of trumpet and clean vocals that were present on the original recording. Ephel Duath's stage image is also appropriately eccentric and very effective. Dressed in black shirts and ties, they convey a serious attitude through their performance, although bassist Fabio Fecchio allows himself the occasional smile when fans applaud his virtuoso bass playing. Vocalist Luciano Lorusso George stands motionless on stage during the often lengthy instrumental passages then bursts into action with sporadic outbursts of frantic screaming. Guitarist Davide Tiso appears genuinely lost in his playing, interchanging between distorted chords and intricate clean jazz parts with great ease. Recently recruited new drummer Sergio Ponti seems to be reading drum music during the entire set while simultaneously playing the complex rhythms required of him. However, the most astonishing thing about their entire performance is, when you consider the complexity of the music, it's executed both flawlessly and tightly. Ephel Duath's set ends how it began with another airing of 'New Disorder' as an encore and fans cheer louder second time around. Overall, completely mindblowing and absolutely f*cking brilliant.
Click on thumbnails for larger images: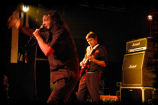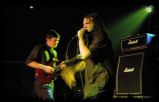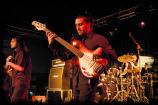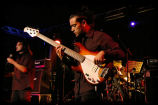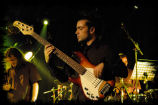 SCAR SYMMETRY
Sweden's Scar Symmetry are first on stage after the diner break. With the release of their second album earlier this year, the awesome 'Pitch Black Progress', this is another band I was looking forward to seeing. Scar Symmetry was only formed in 2004 but one could be easily mistaken for thinking they've been around a few years longer through the maturity evident in their highly developed style of music. Then again, with ex-members of Theory In Practice and Carnal Forge you would expect something special and they don't disappoint in their performance at Progpower Europe. Playing songs from both their latest album and their debut, 'Symmetric In Design', Scar Symmetry draw musical inspiration from a multitude of varying metal styles, with every song sounding distinctively different from the last. The band deliver a very polished performance and look like they're enjoying every minute on stage including an amusing jig between guitarist Jonas Kjellgren and bassist Kenneth Seil to untangle their leads after becoming caught up together. The set climaxes with a storming rendition of 'The Illusionist', a song to which many people know the words as vocalist Christian Alvestam encourages the audience to sing the chorus. All in all, Scar Symmetry were very impressive and as they leave the stage to huge applause it is obvious most of the crowd thought so too.
Click on thumbnails for larger images: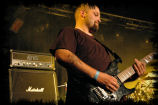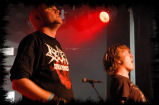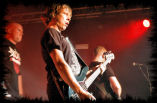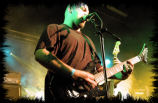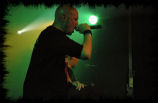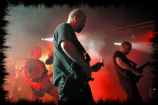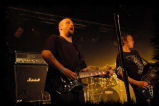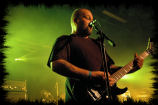 TEXTURES
With a hard act to follow, Dutch band Textures appear on stage like they mean business and inexhaustively sustain a highly energetic performance for around an hour and a quarter. While it is difficult not to be impressed by the relentless intensity of their act, I'm probably in a minority for remaining indifferent when it comes to their music. It is obviously heavily inspired by Mesheggah although a lot more melodic in places. Having seen the mighty Meshuggah live, Textures just sound like a poor imitation. However, they are still a very talented band and have an undeniably fantastic stage presence. They also engender a great crowd reaction and evidently are a popular band though, for me, it's all been done before. An impressive, solid performance, although very unoriginal.
Click on thumbnails for larger images: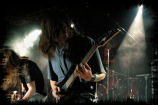 MERCENARY
Final band on the Saturday, and joint headliners with Textures, are Mercenary from Denmark. With a stunning new album, 'The Hours That Remain', only just released, most of their set comprises songs from said album and its predecessor '11 Dreams'. They open with the first track from 'The Hours...', 'Redefine Me', which sounds as good live as it does on CD and is well received by a still lively Progpower crowd. Tracks aired from '11 Dreams' such as the awesome 'Firesoul' go down just as well with fans singing along and headbanging in equal measure. Mercenary are also a very entertaining band visually with energetic performances from all and even some amusing mutual arse pinching between new bassist Rene Pedersen and vocalist Mikkel Sandager. Overall, an excellent performance as Mercenary provide a fantastic finale to a great first day of Progpower Europe.
Click on thumbnails for larger images: