FESTIVAL OVERVIEW
Mid-August this year saw thousands of metal fans descend upon the pastoral grounds of Catton Hall for the annual Bloodstock Open Air festival (unofficial figures indicate 8,500 people in attendance). With the indefinite suspension of its indoor counterpart and predecessor (regularly held in the Derby Assembly Rooms from 2001 to 2006), the dedicated team of organisers have been able to concentrate their efforts solely on improving and expanding the Open Air extravaganza while pertaining to their ethos of "by fans for the fans". Their aim of establishing a European style metal fest in the UK with a diverse lineup of international bands from metal's many disparate subgenres came to fruition last year when the likes of In Flames, Lacuna Coil, Testament, Arch Enemy, Dark Tranquillity, Nevermore and Finntroll entertained around 4,000 fans over 3 spectacular days of music, fun, and general metal mayhem. This is an admirable achievement from a small team of loyal, hardworking individuals who constantly strive to perpetuate Bloodstock's essence of integrity and individuality rather than succumb to the greed-driven corporate monolithism of bigger UK festivals such as Download. With the tickets capped at 10,000 this year and a lineup of bands where the diversity and calibre of which has not been seen in the UK on a single festival's lineup for many years, Bloodstock Open Air 2008 proved to be even more spectacular than the previous year.....and it most certainly was! In a year that has marked the untimely demise of festivals such as the brilliant ProgPower UK due to poor ticket sales, it is refreshing to witness so many thousands of metal fans attend the three days of Bloodstock.

Apart from this year's big name headliners Opeth, Dimmu Borgir, and Nightwish, the Bloodstock team managed to secure appearances from veteran thrash acts Destruction and Overkill; power metal pioneers Helloween; reformed Gothenburg melodic death metal originators At The Gates; NWOBHM act Praying Mantis; British grindcore legends Napalm Death; fast rising, self-proclaimed pirate metal band Alestorm; power-prog 3-piece Communic; batty Swiss folk/melo-death in the form of Eluveitie; British progressive death/black metallers Akercocke; the epic prog-edged black/folk sound of Finland's Moonsorrow, and many, many more. The emphasis was firmly on diversity which will no doubt strengthen Bloodstock's fast growing reputation as the UK's number one metal fest in terms of providing fans with quality, variety, and value for money. Once again, there was also the unsigned stage showcasing a plethora of up and coming talent over the three days, and located in a much bigger, improved marquee than last year. The Lava stage also made a reappearance, but again housed in a far larger marquee and, this year, located on the edge of the campsite, where a few more bands entertained crowds, and also home to a Guitar Hero competition, and the ever popular metal karaoke which continued into the early hours after the main stage bands finished playing on each day. There was the usual signing tent; an extensive metal market; a large campsite; a wide choice of food outlets; bars; and, fortunately, significantly more toilets than last year which were regularly cleaned (virtually unusable, occasionally cleaned portaloos was a major criticism of the festival in 2007). The entire layout of the festival site was changed from the previous three years - apart from to obviously cater for the larger audience that was expected and a significant increase in campers, this was also a major improvement and step forward for Bloodstock. Gaining early access to the main arena on Thursday, my initial impression is slightly marred by a series of funfair rides that have been placed around two thirds of the way back from the main stage, although my prediction that these will be an obstruction proves unfounded, as ten minutes into the first day, I forget they're even there. I know many people have complained about the rides being a money-making exercise for the organisers, but if it helps perpetuate Bloodstock's existence, then no-one should be arguing about their presence.

My only real gripe of Bloodstock this year was the extortionate bar prices (+ a deposit each time, although refundable, for a cardboard cup!). The bar located in the VIP/hospitality area backstage was cheaper than every other bar located around the festival site, although still quite expensive. Also, there was no beer on offer, just lager (along with cider and spirits), so bars were also limited in the range of drinks on offer too. While I guess high prices would either encourage people to either stay relatively sober or be more inventive about smuggling in their own alcohol, for those who wanted to drink, it proved an expensive three days. Food outlets were also far from reasonable, although with a little hunting around, there were bargains to be found.

Back on the positive side, the main stage and PA were significantly bigger this year and security, particularly those in the photopit, much friendlier and helpful than in 2007. A significantly bigger stage would naturally mean more lighting, and no expense was spared here either, with countless moving heads helping make Bloodstock a visual, as well as aural, spectacle. The main stage was also managed incredibly professionally with scheduled change over times generally met - impressive work from the backstage crew considering most bands had large backdrops to hang. Even the weather was an improvement on 2007 (where there was non-stop torrential rain for over six hours on the final day). This year, sporadic showers, mainly on Saturday, slightly marred the occasion, although it was predominantly warm and sunny over the three days (particularly Friday and Sunday).

Considering the festival has more than doubled in size since last year, the expansion has not been at the expense of Bloodstock's reputation for perpetuating a laid-back, friendly atmosphere. It was also pleasing to see a large amount of flags from many different nationalities which is indicative of the global appeal the festival now has. After many years of waiting, the UK once again has a metal festival of which to be truly proud...its name is Bloodstock.
BLOODSTOCK OPEN AIR 2008
FESTIVAL OVERVIEW BELOW
DATE:
VENUE:
Friday 15th August - Sunday 17th August 2008
Catton Hall in Derbyshire, UK
FRIDAY
SATURDAY
DIMMU BORGIR; ICED EARTH; SOILWORK; NAPALM DEATH; MOONSORROW; COMMUNIC; SWALLOW THE SUN; ELUVEITIE; RISE TO REMAIN; CLOUDSCAPE
SUNDAY
NIGHTWISH; AT THE GATES; OVERKILL; AS I LAY DYING; KATAKLYSM; MOB RULES; GRAND MAGUS; ALESTORM; CROWNING GLORY; HEAVEN'S BASEMENT
OPETH; HELLOWEEN; SOULFLY; PRIMAL FEAR; DESTRUCTION; AKERCOCKE; TYR; PRAYING MANTIS; EVILE; SAINT DEAMON
"After many years of waiting, the UK once again has a metal festival of which to be truly proud...its name is Bloodstock."
Bloodstock Open Air 2008 crowd, Catton Hall, 17th August 2008
Photograph copyright © 2008 Mark Holmes - www.metal-discovery.com
ACKNOWLEDGEMENTS
Thanks to Adam Sagir for arranging press/photopasses for Metal Discovery, and his professional handling of a potentially difficult photopit situation due to the accreditation of so many photographers.
Thanks to Hannah Sylvester for her note-taking over the 3 days.
And a huge cheers to Graham Hilling of the The Concrete Shell (www.the-concrete-shell.com) for allowing me to use his Moonsorrow photos.
FESTIVAL OVERVIEW ABOVE
Reviews & Photography by Mark Holmes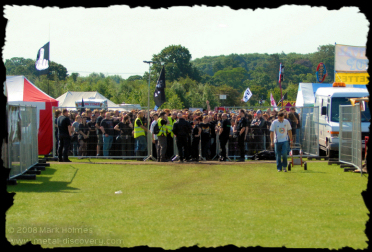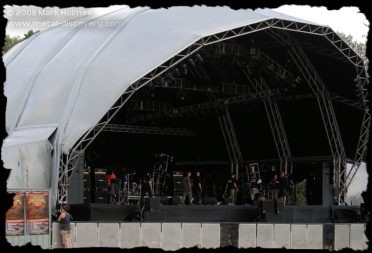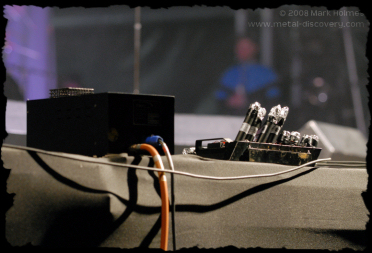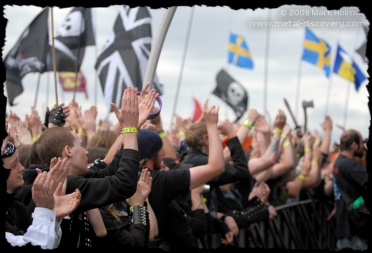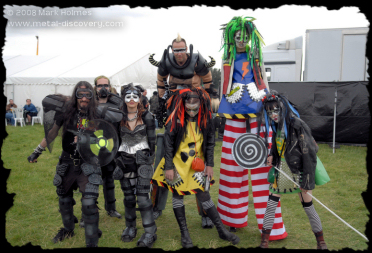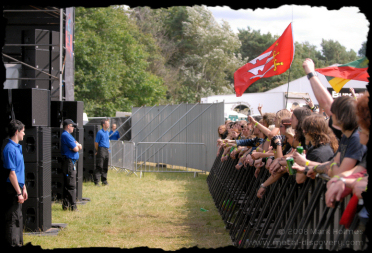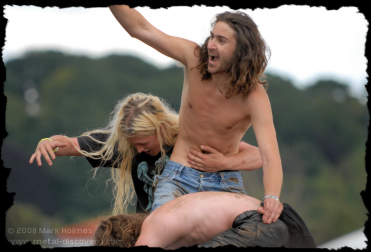 Final preparations on Thursday 14th August - Bloodstock's main stage not long after it's been constructed
Fans eagerly waiting to enter the main arena on Friday 15th August, the first day of the festival
Bloodstock crowd during Praying Mantis, a surprising number of young fans watching the NWOBHM stalwarts
'Stunt Girls' adding a bit of colour backstage (also available to book for children's parties apparently!)
Dimmu Borgir pyros
Yarrrrrr! Bloodstock crowd during Alestorm - the largest display of skull & crossbone flags ever seen at a gig!
Crowd antics just prior to Kataklysm. Another failed attempt at a human pyramid!
Tired, though still enthusiastic, fans waiting for Sunday headliners Nightwish to appear