PROGPOWER EUROPE 2008
SUNDAY PART 2 BELOW
DATE:
VENUE:
Friday 3rd October - Sunday 5th October 2008
Sjiwa in Baarlo, Netherlands
FRIDAY
SATURDAY
CYNIC; ZERO HOUR; ALARUM; WOLVERINE; SUN CAGED; CILICE
SUNDAY
THRESHOLD; WOLVERINE; SUSPYRE; THE AURORA PROJECT; PATHOSRAY; 21 EYES OF RUBY
PAGAN'S MIND; ATROX; DIVISION BY ZERO
CLICK HERE FOR SUNDAY PART 2
Reviews & Photography by Mark Holmes
SUNDAY PART 2 ABOVE
CLICK HERE FOR SUNDAY PART 2
Reviews & Photography by Mark Holmes
SUSPYRE
After Sunday's hour long diner break, New Jersey prog-metallers Suspyre take to the stage. With a third album, 'When Time Fades...', only just released, they're a band who have largely passed me by over the years, so didn't know what to expect from their music. As they commence playing, their compositional stylings are immediately discernible as a balanced fusion between prog and power metal elements (which I guess makes them an apposite selection for a festival called ProgPower!). Delivering a far from polished show, Suspyre look a little awkward onstage with only frontman Clay Barton maintaining any real movement during their hour long set, and while his vocals are sung with efficacious zest and largely in tune, his fellow bandmembers are unengagingly subdued in their respective performances. Stylistically similar to Pathosray who played earlier in the day, Suspyre lack the onstage energy sustained by the Italians, and their technical abilities, making them a substandard band and unfortunately a little too high up the bill (originally they'd been scheduled to play before the diner break before Myrath cancelled). I would have said disappointing, but seeing as I had no idea what to expect, a word such as poor will probably suffice.
Click on thumbnails for larger images:
SUNDAY 5th OCTOBER - PART 2
WOLVERINE
Following yesterday's storming set, Wolverine return to the Sjiwa's main hall stage as penultimate band of ProgPower 2008. A progressive festival and a progressive band, tonight's set provides the Swedes with a chance to demonstrate how they have progressed with their music by playing more recent tracks compared to material from their early career on Saturday. As well as songs from 2006 masterpiece 'Still', the large audience gathered to witness Wolverine's hour long set are also treated to select numbers from 2003's 'Cold Light of Monday' and 2001 release 'The Window Purpose'. Their sixty minutes on stage seem to pass by in no time at all as each composition weaves a sonic tapestry of emotionally captivating music to which I find myself easily lost in its alluring charms. Observing expressions on band members' faces, it appears they too experience the emotional intensities of the music they play. It is pleasing to see a band genuinely 'feel' their music in a live performance rather than the contrived histrionics of many other acts this weekend - stylistically disparate from the majority of bands at ProgPower 2008, Wolverine never sacrifice songwriting for technical wizardry although are highly skilled musicians in their own right. Stefan Zell's vocals impress me even more tonight than during Saturday's show with a commanding, heartfelt performance, proving he not only has one of the best voices in the prog rock/metal genre, but also of any genre. Marcus Losbjer's accomplished drumming brings to mind The Gathering's Hans Rutten, and even the legendary Nick Mason - restrained beats are interposed with bursts of subtly complex patterns as and when the music requires. Thomas Jansson's solid bass playing is rhythmically tight and pulsatingly expressive, while guitarist Mikael Zell once again demonstrates his wide vocabulary of the instrument. Newest member, keyboardist Per Henriksson, fits in perfectly with the Wolverine vibe, and works his keys with adept prowess. Collectively, their performance in the Sjiwa tonight is compelling, powerful, and generally awe-inspiring. A musically varied set proves their status as a genuinely, rather than generically, progressive band. It is great to hear 'Sleepy Town' this evening, which works brilliantly as a live track as well as its recorded version, and they even manage to cheekily squeeze into proceedings the song absent from Saturday's performance, 'Post Life', after it was requested by the festival crew they trim their set due to a delay in the schedule. Set closer 'And She Slowly Dies' fills the Sjiwa with its epic grandiosity, and as the song builds into a crescendo of musical passion, the repeated anthemic chorus is sung by many in the audience. A perfect end to a set that is sensational on every level. Words defy how breathtakingly stunning Wolverine are today - musically sublime and affectively transcendent. Without a doubt, the best performance I have seen by any band on ProgPower's stage in the five years I've been attending the festival.
Click on thumbnails for larger images:
THRESHOLD
In celebration of ProgPower's tenth anniversary, Threshold return to headline the festival just as they did at the first edition in 1999. Never a fan of the UK progsters, I'd only managed to catch them live once before at Bloodstock back in 2002 where I recall a schedule clash between the festival's two stages only allowed me to see around 20 minutes of their set, favouring instead a rare UK live appearance by the mighty Primordial. Ironically, I only manage the first half an hour of their performance tonight and end up sitting outside the venue conducting a crazy interview with 2 members of Atrox! What I do see/hear impresses me, and recently returned original vocalist Damian Wilson (after a near-10 year absence from the band) is a dynamic frontman with a powerful voice. However, following the might of Wolverine with their musically sincere performance, Threshold comes across as a little contrived. This is not to say that I don't like their material, it's just that I've never been moved by their music. Wandering back into the Sjiwa for the final 20 minutes to discover a large audience still lapping up every bar of music, I'm evidently in a minority in my indifference. Promised to be playing a special two hour performance, their delayed appearance on stage and slightly early finish falls noticeably short of the advertised set length, although I doubt anyone in the Sjiwa would be complaining with this judging by crowd reactions as they finish playing. Threshold are not for me, although obviously a popular choice of final day headliner. For me though, the day, and ProgPower 2008 in its entirety, belongs to Wolverine.
Click on thumbnails for larger images:
Rene Janssen - "The Progfather"
Henk, ProgPower 2008 official photographer - a rare appearance in front of the camera
Spot the fake boobs
Proud of his new acquisitions
3:00am - it had been a loooong weekend for this guy...
...and then he got 'decorated'...
...2 of the culprits!
4:00am - everything seemed very hazy after many more beers!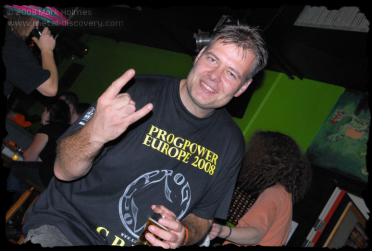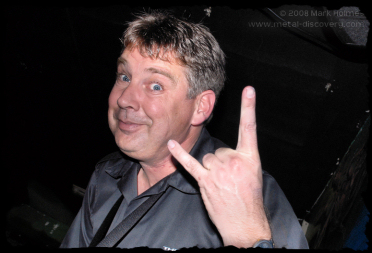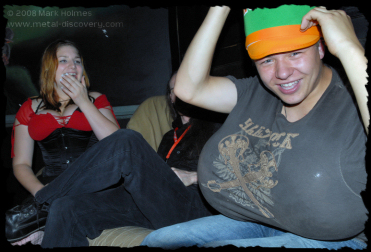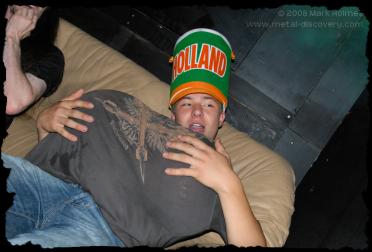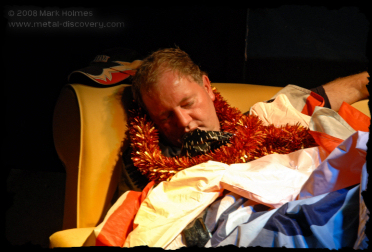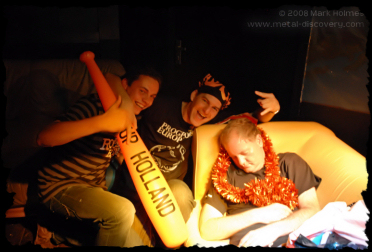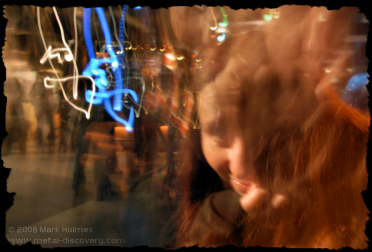 FINAL DAY'S AFTER PARTY IN THE SJIWA BASEMENT